Atsiskaitykite grynais arba kortele pristatymo metu.
Pristatome visoje Europoje.
Pinigų grąžinimo garantija.
Užsakymai priimami 24/7.
Bėgimo takelis inSPORTline inCondi T30i (iki 120kg, 2AG)
Prekės kodas: 21318
Gamintojas: Insportline
Prieinamumas:
Turime

Radote pigiau? Susisiekite. Sumažinsime kainą dar labiau.
819.99 €

Be PVM: 677.68 €
Pristatymo terminas: 1-3 d.d.
Nurodytas pristatymo terminas produkto aprašyme yra preliminarus ir taikomas tik siunčiant Lietuvoje. Prekių pristatymo terminai netaikomi tais atvejais, kai Pardavėjo sandėlyje nėra reikiamų prekių, o Pirkėjas informuojamas apie jo užsakytų prekių trūkumą arba išimtiniais atvejais prekių pateikimas gali vėluoti dėl nenumatytų, nuo Pardavėjo nepriklausančių aplinkybių. Plačiau apie pristatymo sąlygas skaitykite čia
Nemokamas pristatymas perkant virš 79 € (iki 20 kg).
The Treadmill inSPORTline inCondi T30i is an unobtrusive but reliable home treadmill. It syncs with smart training apps, taking your training to another level. inCondi technology allows you to run a virtual race and follow your data in the app. Also, since there is a USB port that allows you to charge your device(s), you don't have to worry about your phone's/tablet's going dead during your workout.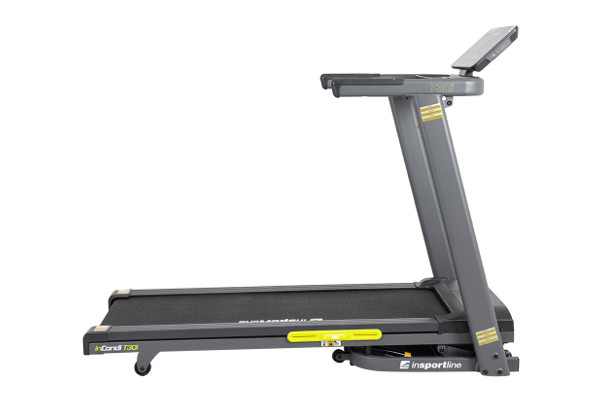 You might also appreciate the outstanding suspension and intuitive operation. On the easy-to-read control panel, you can find buttons that allow you to change the speed and incline. You can choose from 15 profile programs. And if that's not enough, you can create your own programs (as many as 3). The treadmill comes with a Polar chest strap, allowing you to track your heart rate during the workout.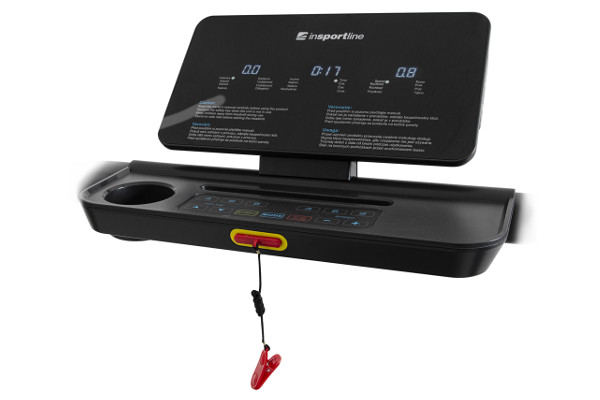 Even though the suspension running belt is quite large, the treadmill won't take up much space. Thanks to the folding frame and wheels, you can fold the treadmill up when you're done and store it away!
Key features:
Large running belt with outstanding suspension
Treadmill is ready to go in a couple minutes
Space-saving folding frame
Can be synced with the following apps (via Bluetooth):

Fitshow (Android 4.3+) / FitShow LITE (iOS 8.0+)

INDOOR – allows you to record your treadmill runs

Thematic runs – road, wilderness, glacier, mild climate, desert
Maps – preset trails on the map
10 preset programs – walking, fast walking, high intensity, endurance, etc.
5 HRC modes – heart rate-based workout
Allows you to create long-term training plans

OUTDOOR – allows you to record your outdoor runs (GPS)

Zwift (Android 7.0+/ iOS 9.0+) and support app Zwift Companion (Android 7.0+/ iOS 9.0+) allow you to control the device from your phone

Training in the form of a game in a 3D virtual environment
Allows you to set goals and create a training plan
Allows you to communicate with other users online
Allows you to create your own avatar to represent you on the screen
Compatible with Apple Health, Strava, Training Peaks, Garmin Connect, Adidas Training, Map My Fitness, Today's Plan

Kinomap (Android 4.4+/ iOS 9.0+)

Preset trails (w/ video)
Select Treadmill (for device) and FitShow (for brand)
Majority of content is paid

Make sure in advance that the treadmill is compatible with your device
In order for apps to work properly, Wi-Fi, Bluetooth and GPS need to be "on"

USB port for charging your phone/tablet
Audio jack (3.5 mm) and MP3 slot
High-quality speakers
Safety key
Bottle holder
Compact design
Computer displays: distance, time, calories, speed, heart rate, incline
Easy Fold System: simple and effective piston mechanism allows you to fold/unfold treadmill using only one hand
Silent Motion Technology: quiet operation
Technical description:
| | |
| --- | --- |
| Engine power | 2 HP |
| Running area dimensions | 130 x 46 cm |
| Running area incline | electronic |
| Number of incline positions | 12 |
| Maximum incline | 7° |
| Speed | 0.8 - 18 km/h |
| Suitable for walking | 2 hours of continuous walking at the most (followed by at least 15-minute break) |
| Overall number of programs | 22 |
| Preset programs | 15 |
| User programs | 3 |
| HRC program | ne (only in app) |
| Manual program | yes |
| Heart rate monitor | yes |
| Water bottle holder | yes |
| Tablet holder | yes |
| Transportation wheels | yes |
| Uneven surface adjustment | yes |
| Suspension | Silent Block |
| Safety brake | yes |
| HR belt receiver | yes |
| HR belt included | yes (Polar, 5.3 kHz) |
| Audio input | yes |
| Foldable | yes |
| Overall dimensions | H 125 cm x W 78 cm x L 155 cm |
| Collapsed dimensions | H 141 cm x W 78 cm x L 91 cm |
| Package dimensions | L 168 cm x W 80 cm x H 28 cm |
| Weight limit | 120 kg |
| Weight | 61 kg |
| Power source | 220V, 230V |
| Category | HC (EN957) |
| Use | home |